Did you see that video showing the Kimyal tribe receiving the New Testament in their language? If you didn't, take a moment to allow yourself this amazing treat. There are several versions available, one of them up to half an hour, but here's one of the shorter ones.
When my husband Tim first showed this to me, one of my first thoughts was Who ARE these people? Why are all of them already so excited to be receiving the Word of God?
The land is West Papua, formerly Irian Jaya. The land where Don Richardson's Peace Child took place.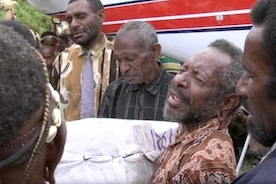 The man who prayed when he received the box of Bibles, the one named Siud—he came to Christ in the early to mid 1960s. Years earlier, when he was little more than a child, something had stirred in his heart to tell him that his tribe's way of life of spirit appeasement couldn't possibly be all there was. When the first missionary came (a man who was later martyred), Siud's heart was prepared to receive the Great Salvation through Jesus.
He had learned from missionary teachers, he had read parts of the New Testament, he had grown as a believer, but he, with the others, has waited for the completed New Testament, just as Simeon waited for the Messiah.
All these years.
And so, when as an old man he finally received it, his heart overflowed with joy and thanksgiving. This will be the last chapter in my newest Hidden Heroes book, Witness Men: True Stories of God at Work in Papua, Indonesia.
Thank you, Phil and Phyliss, Paul and Kathryn, Elinor, Orin and Rosa, Jessie, and the ones I am not yet aware of. Thank you for being submitted to God to be used for the work that you did among these people, the work that eventually resulted in this great gift that resulted in a celebration that resulted in a video that is touching hundreds and thousands of lives around the globe.
Thank You, God, for your Holy Word. May we never take it for granted. May we always hold it up as our Treasure, as these, our brothers and sisters, have done.