A woman named Joy garnered fame
So different was she from her name.
Vindictive and rude,
Bitter venom she spewed–
But oh Joy! She was never to blame.
(This comes from being in bed with the flu. Sorry.)
That Joy was a woman I knew years ago. I marveled at the disparity between her name and her character. What irony.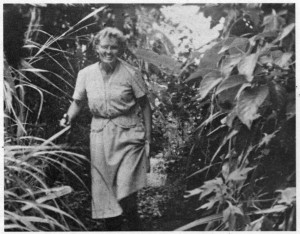 This was not Joy Ridderhof. Emphatically not. With the goal of recording every language she could possibly find, Joy Ridderhof persevered with temerity, trekking through jungles and over choppy seas in little boats, energized with a joy that glowed on her face. She knew something about who Jesus Christ was to her, and in her.
I just finished reading Catching Their Talk in a Box, a children's biography by Betty Hockett about this remarkable lady, and I was impressed, again and again, with how in the face of difficulties, she kept on. Not only trusting God, but trusting to the point of rejoicing. "This is Good Rejoicing Practice," she would say to her partners at each setback. And there were many. "God must have something better planned for us."
Good Rejoicing Practice. They began to call it GRP.
Good Rejoicing Practice. When your delicate recording equipment breaks in the middle of a South Sea island. When you miss your plane. Lose your luggage. Get lost in the 120-degree jungle. Never have a husband. Contract malaria.
Good Rejoicing Practice. When you miss what seemed like a door of opportunity. Lose something dear to you. When life seems to shatter. "I will praise You, O Lord! Because You are worthy of praise. And You have something better. I  trust You and rejoice in Your goodness. I love You."
Joy Ridderhof had a simple recipe for the success she experienced in in using primitive equipment to record the gospel message in hundreds of languages. (And establishing a ministry that has gone on to record it in almost six thousand.)
First, Seek God: She told the staff to reserve one entire day for prayer every week!
Then, Trust God. Move forward. At each setback, praise Him, truly praise Him, trust Him, and start fresh.
One more example in that Cloud of Witnesses. One more who did her Small Great part to advance the Kingdom. Praise God for those who have gone before and who, for us who come after, point the way.